From June to September, you will find more than 15 local or international festivals in Provence.
Situated in the heart of Provence, between Marseille and Avignon, at Baumanière you are 40 minutes from the Avignon train station and 1 hour from the Marseille airport. Baumanière Les Baux-de-Provence lies in an untamed and peaceful environment. Thanks to this excellent location, you can discover, at your own rhythm, the charm of the festivities and of Provençal culture in the exceptional sites, for your viewing and listening pleasure…
Our advice: Reserve your seat and your restaurant in advance! You will more fully enjoy yourV festival…
Watch out for the sun! Don't forget to take with you a bottle of water and a sunhat.. Don't let the Mistral wind ruin the show. It's a good idea to wear pants and take along a light jacket for the windy evenings.
Our concierge and our personnel are at your disposal to book taxis or rent a car. For any questions, contact us: 04 90 54 33 07 or [email protected]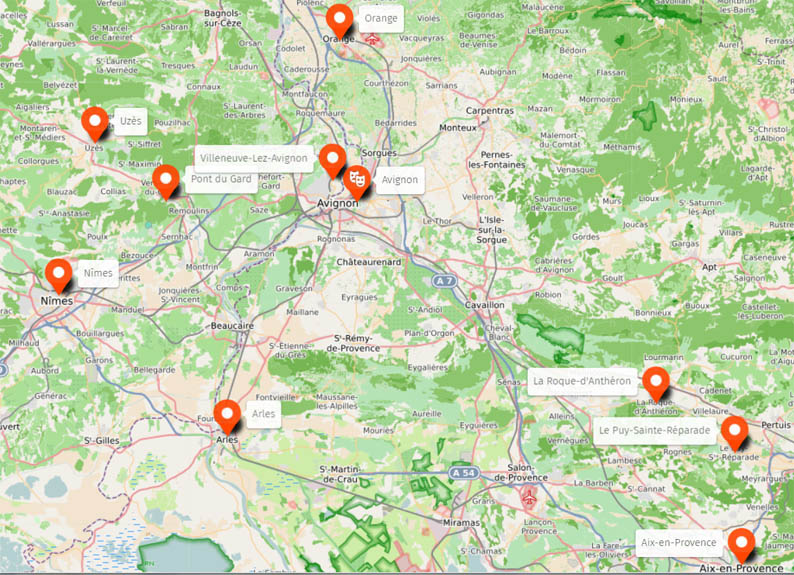 30 minutes from Baumanière
•
July: Les Suds à Arles

"Les Suds" Festival has as its objective to affirm the identity of Mediterranean culture, the Mediterranean regions and, more widely, the South; to promote and diffuse their cultures, develop their attractiveness and contribute to their full recognition within Europe and internationally through its world music festival.
• July 19 & 21 2019 : Les Escales du Cargo à Arles
In the Roman theatre antique and in the courtyard of the archbishop's palace Discover in these exceptional open-air venues a contemporary eclectic music festival with artists such as Texas, Thérapie Taxi, Balthazar and many others…
Prices: from €30 to €53
Where to dine?
City center: L'atelier de Jean Luc Rabanel : 7 rue des Carmes
Le Galoubet : 18 Rue du Dr Fanton
Le Gibolin : 13 Rue Des Porcelet
Outside the center : Chez Bob : 1 Route Sambuc Villeneuve
La Chassagnette : Mas de la Chassagnette, Chemin du Sambuc
40 minutes from Baumanière
•
July : Avignon Festival

Founded by Jean Vilar in 1947, the Avignon Theatre Festival is an institution! It is the biggest theatre and performing arts event in France, and one of the biggest in the world with the number of productions and spectators.
The IN is played in 12 legendary venues in Avignon, including the main courtyard of the Popes' Palace, while the OFF offered this year no less than 1400 performances of dance, chant, theatre de rue, etc, presented in more than 120 theatres in the city, sometimes letting you discover some quite unexpected spots! Let yourself be carried away by the lively ambiance and the proximity with the artists.
Useful info:
– Le IN : from 5€ to 48€
– Le OFF : from 8€ to 20€ Consult the programme.
The carte OFF lets you benefit from a 30% discount on ticket prices.
Where to park in Avignon during the festival? Consult the map of parking slots
Where to dine?
Not far from the Popes' Palace, here are some restaurants that we recommend:
Avenio : 19 Rue Des Trois Faucons, 84000 Avignon
Christian Etienne : 10 Rue de Mons
La Fourchette : 17 Rue Racine
La Mirande : 4 Place de l'Amirande
A few minutes from Avignon, get away from all the festival's hustle and bustle for a peaceful pause and lovely setting!
Le Prieuré : 7 place du Chapitre – Villeneuve-Lez-Avignon
Le Bercail : 162 Chemin des Canotiers – La Barthelasse
It is also the occasion to watch one of the shows in Villeneuve-Lez-Avignon.
•
From June to August :Les Chorégies d'Orange

Internationally renowned, the Chorégies d'Orange take place in the open-air setting of the majestic Roman Theatre of Orange, guaranteeing you extraordinary acoustics. This oldest and most popular of French opera festivals continues to be an essential event in the world of opera, bringing together the most illustrious singers.
Prices: from 10€ to 250€ depending on the category and the show
• From June to July : The Festival de Nîmes – music concert
Since 1997, the festival of Nîmes transforms the Arena into a pop/rock stage for a series of open-air concerts. Each evening sees artists of international renown in the unique setting of this ancient arena listed as a historic monument. This year, there was Sting, Vianney, Lenny Kravitz, Enio Moricone, Jamiroquaï, Massive Attack and many others.
Prices: from 40€ to 100€ depending on the category and concerts
Where to park in Nîmes ?
Consult The site of the tourist office.
It's also the occasion to spend the day visiting Nîmes and its Roman ruins: upon presentation of your concert ticket, take advantage of preferential admission prices to the arena or another monument in Nîmes.
Information on the Arena.
Other events in the region :
Opera in the region of Aix
•
July : International Opera Festival in Aix-en-Provence

The Festival of Aix-en-Provence is an opera and classical music festival created in 1948 and which takes place each year in Aix-en-Provence. It is one of the grand European opera festivals, with a particular affinity for the operas of Mozart. Two themes traverse this 70th annual festival: the sentiment of love, and the relationship with the past in all its forms, mythological, historic, archaeological…
Where to dine in Aix ?
Here are some suggestions :
Côté Cour
Mickaël Féval
Château la Pioline – Pierre reboul
Where to park in Aix ? Consult the tourist office's web site.
• July : Festival de Lacoste – Le Puy-Sainte-Réparade
Created in 2001 "In the heart of the Lubéron, Lacoste with its luminous beauty once again hosts the Opera and Theatre Festival. In this unique spot dear to the Marquis de Sade, I invite you to come enjoy one of the major cultural events of this summer." Pierre Cardin.
Prices: from 18€ to 110€ depending on the show and category
• From July to August : Festival international de piano à la Roque-d'Anthéron
For more than three decades, the Festival of La Roque d'Anthéron is that of all those musicians who, through the piano, dare to show their originality and their personality. The wise, the insolent, the prodigies, of all ages, all poets in their way, who come each year beneath the hundred-year-old plane trees and the Provençal evening skies.
•
July  : Festival Villeneuve en Scène – Villeneuve-Lez-Avignon

The Festival Villeneuve en Scène is the festival of itinerant theatre. It offers a programme of rich and varied shows where the theatrical text borders on circus, music dance or street performances. The shows, open to the entire public, appeal to the mind and to sensitivity. They invite the spectator on a quest, a reverie, a time devoted to one's inner self.
Prices: from 6 à 16€
Where to dine in Villeneuve-Lez-Avignon ?
Le Prieuré : try Marc Fontanne's cuisine during a lunch or dinner in all serenity and enjoy the terrace and bucolic garden… Far from the hustle and bustle.
• June : Le Festival Uzès Danse
The Maison CDCN Uzès Gard Occitanie presents the 24th annual festival Uzès dance. A dance festival devoted to emerging creation and new forms, in historic venues and open-air spaces.