With our 20-hectare park, the recreational activities on the premises : tennis, swimming poos, walks, pétanque, fitness centre… as a couple, with the family or with friends, organise your stay in Provence.
Just the thing for staying fit at any age!
Our personnel at reception will be happy to inform you and to reserve for you your sessions and material.
Just a simple phone call to 33 (0)4 90 54 33 07 or by dialling 9 from your room.
• Our three swimming pools : The pool of Carita, near the vegetable garden, is the most family-friendly of all while it also offers a beautiful view of its surroundings. The one at the Manoir, in cut stone, is the most intimate and situated in a verdant setting. The magnificent pool at L'Oustau is the largest of the three and can be found at the foot of the village of Les Baux. In the morning already you can take advantage of the swimming pool for a few laps away from prying eyes.
• Our Spa also has a gym with 2 bikes, an elliptical trainer, a treadmill, a kinesis, a rowing machine, a weightlifting bench, floor mats. For the more motivated, you can even hire a personal fitness coach. Contact the spa: 33 (0)4 90 54 24 67 or [email protected] Suggestion: after all the effort, try our refreshing and energizing home-made "Détox" cocktails, to enjoy by the pool!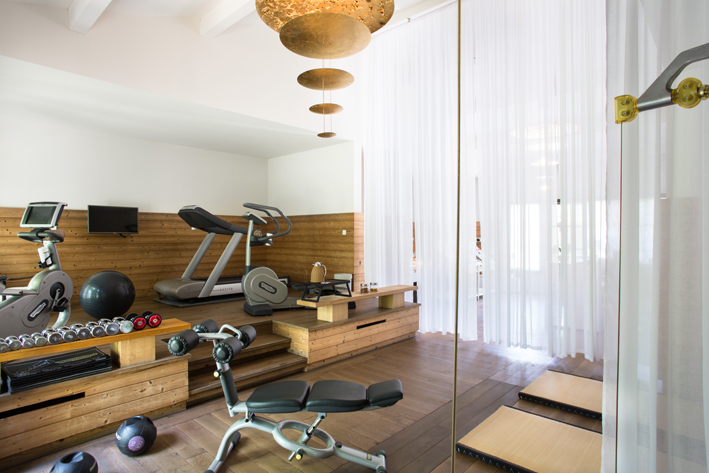 • The Baumanière Walk: Immerse yourself in the preserved vegetation and admire the wild beauty with which our 20 hectares of nature surround us… the Domaine de Baumanière stretches out over 900 metres and offers a stroll through time. From the vegetable garden to L'Oustau de Baumanière, you will discover the 5 living environments full of stories and the tree-filled gardens of many plant varieties and dotted with ponds.
Each garden has its own variety of vegetation, dotted here and there by fountains, ponds with ducks and swans, and a goat pen. 20 hectares of multiple, varied plants: herbs, white roses, cypress, oleander, linden trees, bay laurel, lavender… It's a pleasurable place for a stroll, letting yourself be guided by the sweet floral scents and the singing of the birds. An ideal setting for a romantic and poetic escape.
In its gardens, Baumanière has an organic vegetable garden labelled ECOCERT in which our guests can see sweet peas, green beans, tomatoes, herbs, fava beans and many other vegetables growing…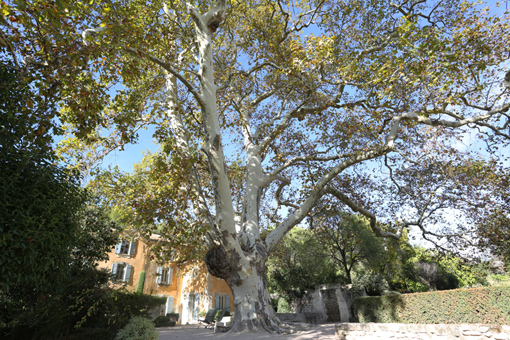 And don't forget to take time for a break at the Manoir to admire Baumanière's majestic 350-year-old plane tree which. In the image of Baumanière, it has planted its roots in the limestone earth of Provence.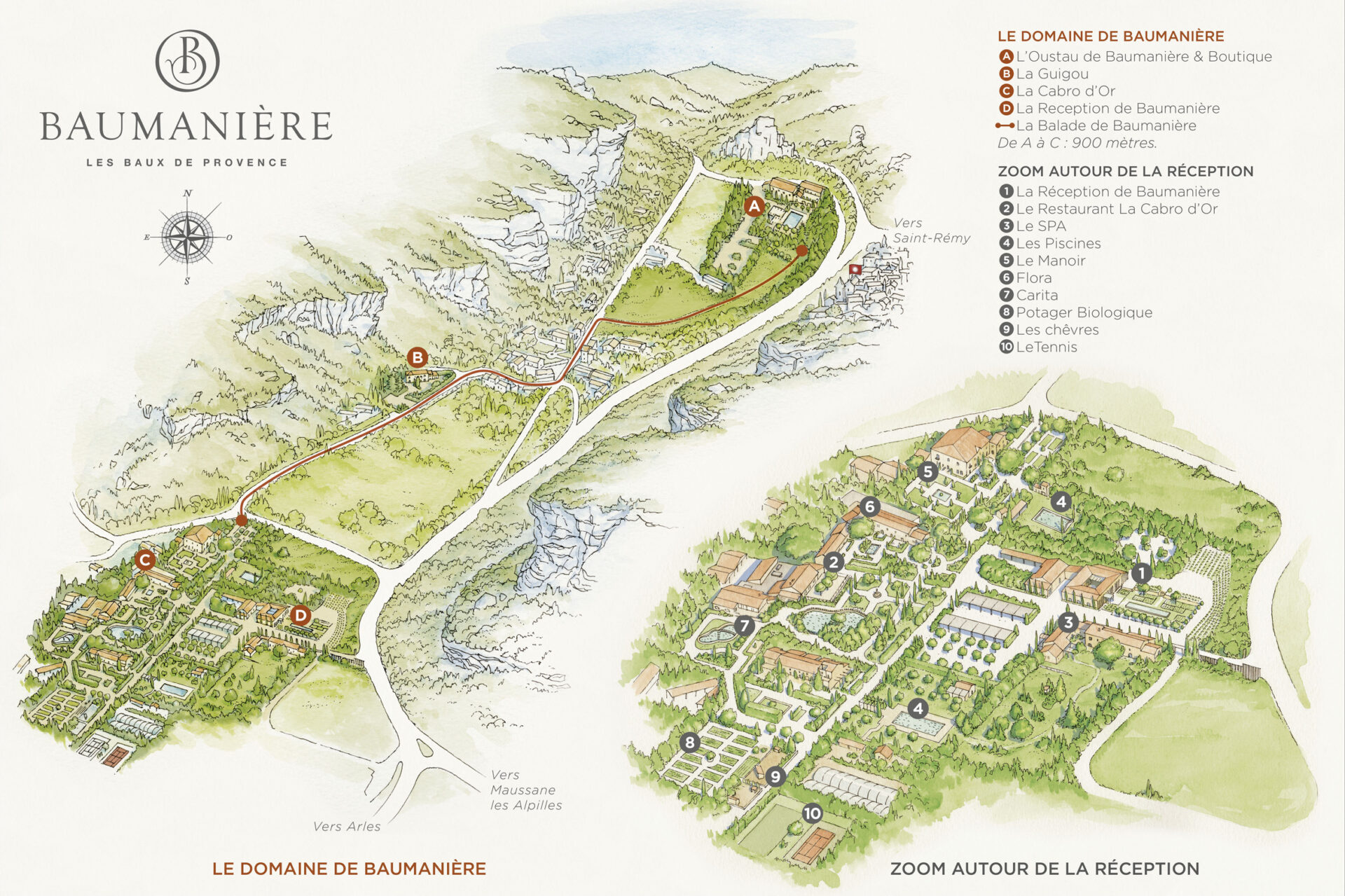 • For our small customers: Baumanière offers new fun activities and new play areas for the enjoyment of children. Ping Pong, swings will be at their disposal near the goats enclosure and the organic garden. Children will enjoy strolling in the paths of the organic garden and taste the cherry tomatoes.
• Do you enjoy a game of tennis? A tennis court can be found in the gardens next to La Cabro d'Or. We advise you to book your session at the reception desk, where you can also pick up the necessary gear.
• Bicycle rentals: our concierge can provide you with information and handle your bicycle rentals at the hotel. Try out some of the itineraries for electric bikes! Contact-us at 33 (0)4 90 54 33 07 or by e-mail at [email protected], or by dialling 9 from your room.